We are a team of specialist neurological physiotherapists and trained advanced Bobath therapists. We are all members of the Chartered Society of Physiotherapists (CSP) and registered with the Health Professional Council (HPC).
As qualified neurological physiotherapists we are all committed to on-going training to keep abreast of new techniques and the latest developments, supporting and learning from one another.
Helen Lindfield – Clinical Director and Owner of heads up!
Helen qualified as a physiotherapist in 1989 and quickly focused on neurological rehabilitation completing a MSc in Rehabilitation and Research in 1999. She went on to develop her clinical skills by training as a Bobath Tutor. She teaches nationally and internationally and at a number of Higher Education institutions.
She has worked in neurological rehabilitation for 20 years developing advanced clinical reasoning skills and is an expert clinician with skills in assessment, the use of spasticity management, splinting, orthotics and hands on approaches.
She has a clear understanding of the range of rehabilitation skills available to clinicians and more importantly recognition of how these approaches can be used to meet the needs of the individual.
Helen continues to work as a Consultant in a number of NHS hospitals. She is aware of the importance of evidence-based practice and supports the team at heads up! to develop skills in practice in the context of best practice guidelines and clinical expertise.
Emma Walters MCSP SRP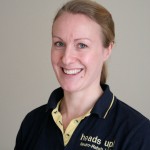 Emma qualified from the University of Brighton in 2000 with Bsc(Hons) Physiotherapy. She then worked at Maidstone Hospital where she completed her junior rotations and started to specialise in neurology.
In 2003 she moved to Wycombe Hospital where she worked as a Highly Specialised Neurological Physiotherapist covering neurological outpatients, inpatients and rehabilitation. She completed her Basic Bobath Training in 2005 and helped to set up the new stroke unit at Wycombe Hospital.
Emma joined heads up! In 2006 as a Clinical Specialist and has continued to treat patients with all types of neurological conditions both in the outpatient clinic and the community. She has attended numerous courses and training days including four Advanced Bobath Courses and continues to enjoy developing her learning and skills.
She is HCPC registered and a member of the CSP and ACPIN. Emma says that the best things about working at heads up! are the friendly team, the opportunity to learn and develop and the quality time spent treating patients.
Zoe Moyse MCSP SRP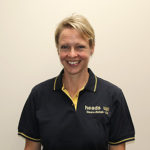 Zoe worked for 4 years as a highly specialised neuro physiotherapist at the Wolfson Neuro Rehabilitation Centre, working intensively with people with a variety of neurological conditions, as part of a multidisciplinary team. Whilst at the Wolfson, Zoe ran a lower limb neuro orthotic clinic with an orthotist and has retained an interest in this field.
Zoe joined heads up! in 2012. She has attended numerous courses, training days and an Advanced Bobath Course. Zoe feels that working at heads up! has enabled her to spend focussed, quality time with her patients, working closely with them to achieve their goals with the aim of improving their quality of life. The team at heads up is friendly and very supportive, with a strong emphasis on continuing development. Working at heads up! has provided the opportunity to work in both the clinic and home environment, allowing for a much more focussed, realistic and empathetic approach.
She is a member of the CSP, ACPIN and is HPCP registered.
Claire Jenkins MCSP SRP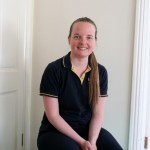 Claire qualified as a physiotherapist in 2006 from Cardiff University with a BSc (Hons), subsequently working at St George's Hospital from 2007 – 2013, with a period in between at Stanmore in 2009 – 2010.  Claire has been treating complex neurological patients with a range of stroke and neurological conditions during her time at The Wolfson Neurological unit at St George's Hospital, London.
Claire is a member of the Chartered Society of Physiotherapists, is HCPC registered, and joined the heads up! team in October 2013.
Carol Carr
Carol has 30 years of experience having qualified as a physiotherapist in 1992.
She knew from her early days in physiotherapy she wanted to specialise in neurology. Having initially worked in West Yorkshire, she then returned south to work at Epsom District Hospital. From there Carol moved to work at Harrowlands, a specialist neurological rehabilitation centre in Dorking and whilst there, she was involved in the early days of heads up! helping to establish its reputation in this area.
Her most recent role was as Head of Therapies at Queen Elizabeth Foundation's Care and
Rehabilitation Centre in Leatherhead. Carol was able to use her expert clinical skills, knowledge of
neuro-rehabilitation to develop services. She is still involved with the QEF charity to this day.
Carol is trained in the Bobath Concept, completing 5 advanced courses, and has supported people following neurological injury or disease for the past 28 years. She is always keen to actively include everyone involved in the rehabilitation process and focuses on what's most important for the people she treats. She has a holistic approach to treatment and incorporates all aspects of a person's environment into the rehab process.
At heads up! Carol is now able to do what she loves most – hands on treatment to directly influence rehabilitation for those affected by neurological disability.
Hilary Myall MCSP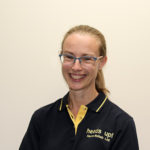 Hilary studied for her BSc (Hons) degree in physiotherapy in St. George's Hospital Medical School, London, qualifying in 2003. Hilary has specialised in neurological physiotherapy for 12 years, working in acute hospital settings, the Wolfson Neurorehabilitation Centre and in the community.
Hilary has specialised in vestibular rehabilitation for the last 7 years and worked with the Audiovestibular physicians in St. George's Hospital to establish a specialist vestibular rehabilitation service. She has been a committee member of the specialist vestibular physiotherapy group and regularly provides training on vestibular rehabilitation to other clinicians. Hilary especially enjoys working with complex vestibular patients including those with migraine, Meniere's disease and dizziness problems following head injuries.
Hilary has also worked closely with specialist consultants providing complex care to patients with facial palsy, Hilary works hard with these patients to achieve the best possible outcomes for their individual circumstances.
Hilary is Bobath trained and uses a variety of treatment approaches to meet the varying needs of her clients and as the team lead for the neuro outpatient service at St. George's Hospital she has worked with clients to achieve their individual goals be that to return to sports or to participate more in their day to day activities.. Hilary is also trained in the use of acupuncture and uses this as an adjunct to her treatment of both neuro and vestibular patients. Hilary has completed a post graduate certificate in rehabilitation at St. George's, University of London.
Hilary is a member of various physiotherapy clinical interest groups and regularly attends lectures and courses for both neuro and vestibular physiotherapy to ensure her skills are up to date and she is able to provide her clients with up to date evidence based treatment.
Hilary is HCPC registered and is a member of the CSP, ACPIVR, ACPIN and Facial Therapy Specialist-UK.
Steph Anderson MCSP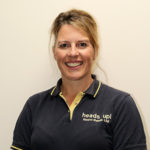 After graduating from Birmingham in 1989, Steph joined the physiotherapy department at East Surrey Hospital, where she completed all her junior rotations. She then became a Senior Physiotherapist specialising in orthopaedics and musculo-skeletal conditions. More recently she has worked in the community treating patients in their own home, particularly working on rehabilitation following hospital admissions and prevention of falls.
She has a special interest in Pilates and has completed the Matwork series and small equipment Pilates training through the Australian Physiotherapy and Pilates Institute (APPI). She has 10 years' experience teaching Pilates classes mostly for rehabilitation and 1:1 Pilates tuition. Pilates really lends itself to those with a neurological condition. It promotes ease, quality and precision of movement. The exercises start from very small and minimal to large and more complex, the benefits of which are muscle strengthening, improved flexibility and improved balance.
Steph has also recently completed the PD Warrior course (level 1&2)  This is a very different form of exercise from Pilates with dynamic, large and powerful movements aimed at improving the symptoms of Parkinson's Disease.
Steph is a member of the Chartered Society of Physiotherapy and is HCPC registered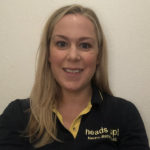 Louisa qualified as a physiotherapist from the University of Birmingham in 2005. Louisa has been working as a specialist neurological physiotherapist for the last 10 years at St George's University Hospital NHS Trust, working in both acute and rehabilitation settings. For the last 8 years, Louisa has been a team lead for the Wolfson Acute Neurological Rehabilitation Unit. Louisa has a keen interest in gait rehabilitation and the use of orthotics in neurological patients, and jointly ran a MDT Orthotics Clinic with an Orthotist at Queen Mary's Hospital, working closely with the Gait Laboratory and Spasticity Clinic to ensure a holistic and patient centred treatment approach. Louisa is Bobath trained, and enjoys using a range of treatment approaches. Louisa has provided training to other clinicians on gait biomechanics and the use of splinting and casting in the upper and lower limb. Louisa has also given lectures to physiotherapy students at St George's University London.
Louisa enjoys working closely and collaboratively with her patients in order to encourage and empower them to achieve their goals. Louisa is enthusiastic and is keen in making the physiotherapy sessions both enjoyable and physically rewarding.​
Louisa is HCPC registered, and a member of the CSP and ACPIN.
Sally Watt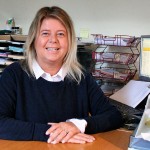 Sally is our Practice Manager and will probably be the voice on the other end of the phone when you call. She joined the team in 2003 after 11 years at a local GP's practice. During her time there, she completed a Diploma in Practice Management at Carshalton College, gaining a distinction.